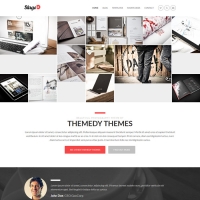 The Stage 2 theme from Themedy is a
mobile responsive theme
with a modified widgetized home page. It adds custom post types for slides, photos, and a portfolio and supports them with its featured grid at the top of the home page and a slider, used to display testimonials on our demo.
For many of its themes, Themedy controls some parts of the home page with user-configurable options. While blank widget areas provide more flexibility on what content can be placed in that area, Themedy's approach allows for some control while removing the complexity of widget setup.
Stage 2 includes a color picker to change certain theme elements, such as hover on the home page gallery, that provides access to a virtually infinite selection of colors. Stage 2 also includes a responsive landing page template, support for jQuery retina-ready images, and a mobile specific menu. Themedy's custom shortcodes also work with the theme.
Introduced on 10/18/13 and later updated to support HTML5, Stage 2 is a 3 column theme with 6 layout options. Beyond the WordPress standards of custom menus and threaded comments, Stage 2 also supports custom headers, custom backgrounds, and Google web fonts (specifically Lato). Beyond the Google fonts, Stage 2 loads a FontAwesome font that's put to a very limited use of adding an arrow on threaded comments. In total, the selected fonts and weights add about 177 Kb to the page weight of the site, which is a significant addition for typography.
Here are all of the widget areas for the Stage 2 theme:

And here's a full length image of the theme's home page:
We've got a live demo of the Stage 2 theme that shows off its basic features.
The Stage 2 theme is available on our plans with premium themes, from PERFORMplus and up.
If you haven't signed up for one of our plans, you can ask pre-sales questions about the Stage 2 theme by reaching out via our contact form. Existing customers should use our ticket-based email support to ask questions about the Stage 2 theme.