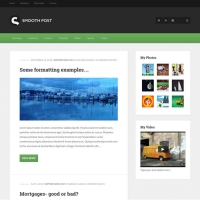 The Smooth Post 2 theme from
Themedy
is an easy-to-launch
blog style
theme. It's a refresh of the original
Smooth Post
released in 2011.
With the update, Smooth Post 2 is HTML5 compliant and features mobile responsive design with a mobile specific menu.
Smooth Post 2 includes several theme-wide settings to make using the theme easier. For example, there's a single setting to automatically include the featured include the post's featured image in the post content. There's also a single setting to make the secondary navigation menu sticky at the top of the page, with a quick "go to top" arrow. One note: if your visitors are using the WordPress admin bar, the sticky navigation menu will be largely obscured. The header right widget area has been replaced by Themedy's tool to easily add social sharing icons.
Themedy's custom shortcodes also work with the theme.
Introduced on 05/12/14, Smooth Post 2 is a 3 column theme with 6 layout options. Beyond the WordPress standards of custom menus and threaded comments, Smooth Post 2 also supports custom headers, custom backgrounds, a landing page template, a portfolio custom post type, multiple color styles (blue, red, fuschia, orange, dark and green, the default), and Google web fonts (specifically Lato and Roboto Slab). The theme also loads FontAwesome icon fonts to display its social sharing icons. The selected fonts and weights, including FontAwesome, add about 159 Kb to the page weight of the site, which is a large addition for typography.
Here are all of the widget areas for the Smooth Post 2 theme: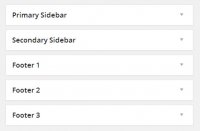 And here's a full length image of the theme's home page:

We've got a live demo of the Smooth Post 2 theme that shows off its basic features.
The Smooth Post 2 theme is available on our plans with premium themes, from PERFORMplus and up.
If you haven't signed up for one of our plans, you can ask pre-sales questions about the Smooth Post 2 theme by reaching out via our contact form. Existing customers should use our ticket-based email support to ask questions about the Smooth Post 2 theme.