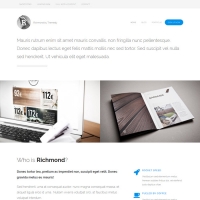 The Richmond theme from
Themedy
is a theme with a home page that's highly customizable without taking the time to add plugins and configure widgets.
The home page includes content elements that are must-haves on portfolio or showcase sites:
a tagline area (set by using the Homepage page template)
a featured grid area for 2 content items
page content (set by using the Homepage page template) and Features custom post type
a styled subscription area
up to 4 testimonials managed using the Testimonials custom post type
a footer contact area with a customizable background iamge
Richmond is HTML5 compliant and features mobile responsive design with a mobile specific menu.
Themedy's custom shortcodes also work with the theme.
Introduced on 12/31/14, Richmond is a 3 column theme with 6 layout options. Beyond the WordPress standards of custom menus and threaded comments, Richmond also supports custom headers, custom backgrounds, multiple page templates, multiple custom post types (portfolio, testimonials, and features), retina-ready images, multiple color styles (greed, red, pink, orange, dark, and blue, the default), and Google web fonts (specifically Raleway). The theme also loads FontAwesome icon fonts to display its social sharing icons. The selected fonts and weights, including FontAwesome, add about 219 Kb to the page weight of the site, which is a large but still manageable addition for typography.
Beyond the page templates that come standard with the theme, we've added our own Remove Footer Contact Area page template. If you opt to display the standard footer contact area, it would show on all pages, including a page such as a contact page that might display its own form. Our page template gives you the option to selectively remove the footer contact area. Putting the standard footer contact area on all pages might eliminate the need for a separate contact page, but our page template offers the flexibility to those that want a separate page without duplicating forms.
Here are all of the widget areas for the Richmond theme:

The limited widget areas are not a reflection of the theme's customization potential. In effect, Richmond is a pre-packaged customization for a set of features commonly found on portfolio or showcase sites. You could invest the time and money to recreate this customization by adding plugins and styling to a theme with a widgetized home page, but Richmond is ready to go without that investment. With options managed on the Appearance->Themedy Settings menu, it doesn't need many widget areas to do its job. If your requirements match the built-in customizations of Richmond, the theme is a great fit; otherwise, look for a theme with more homepage widgets.
We've got a live demo of the Richmond theme that shows off its basic features.
The Richmond theme is available on our plans with premium themes, from PERFORMplus and up.
If you haven't signed up for one of our plans, you can ask pre-sales questions about the Richmond theme by reaching out via our contact form. Existing customers should use our ticket-based email support to ask questions about the Richmond theme.