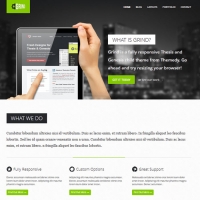 The Grind theme from Themedy is a clean mobile responsive theme with an eye-catching shuffling animation courtesy of the
jQuery Quicksand script
. Grind's clean look is a product of strong design elements – a big home page slider – with subtle touches, such as removing categories and tags from the traditional post display (the post meta).
It adds 2 custom post types (Slides and Portfolio) and multiple page templates (a landing page and 2 portfolio templates). The Portfolio custom post type shows off a shuffling approach to reorganizing images – just click on any of the categories for the post type to see it in action. Each of the images is linked to the post itself. This portfolio page could showcase products or services as easily as stock images.
Released on 9/29/12, Grind is a 2 column or 3 column theme with 6 layout options and a widgetized home page. Beyond the WordPress standards of custom menus and threaded comments, Grind also supports custom headers, custom backgrounds, and Google web fonts (specifically Open Sans). The selected fonts and weights add about 86 Kb to the site's page weight, which is a significant addition for typography.
The Grind theme has a total of 14 widget areas, 3 of which are footer widgets that divide the page into equal parts.
All of the supported widget areas for our customized Grind theme are shown below: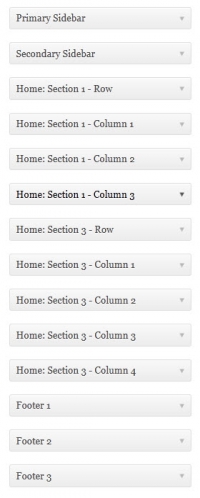 We've got a live demo of the Grind theme that shows off its basic features.
The Grind theme is available on our plans with premium themes, from PERFORMplus and up.
If you haven't signed up for one of our plans, you can ask pre-sales questions about the Grind theme by reaching out via our contact form. Existing customers should use our ticket-based email support to ask questions about the Grind theme.