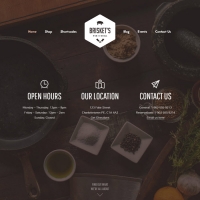 The Brisket theme from Themedy is an
HTML5-compliant
,
mobile responsive
theme that's designed to display a static page on the home page. That static page is surrounded by user-configurable content that appears both above and below the page content. Because Brisket includes a custom post type of Menu Items, it's a great fit for restaurants. But if you ignore that post type, it can work for a variety of sites.
Typical of themes by Themedy, Brisket includes a list of features that are configurable on the Appearance->Themedy Settings menu.
The home page includes 1 featured header area that appears above the static page content and 2 content areas that appear below, plus a configurable footer that appears on all pages. For the featured header area, there are settings to show an image and scroll down link text. On top of this area, Brisket displays the 3 most recent Features, another custom post type supported by the theme. For more flexibility, the featured header can be turned into a widget area.
Brisket optionally displays the menu from the Menu Items custom post type with a background image followed by a configurable number of events. Events are maintained by the the separate The Events Calendar plugin, which creates its own custom post type. If used, the Homepage: Bottom Area widget area appears below events.
On every page, Brisket can display 2 configurable footer boxes. Each has background and icon images, title and subtitle, and a link. There's a configurable footer below the footer boxes.
Sandwiched between those footer boxes and the footer are 3 footer widgets, appropriately named Footer 1 through 3.
Brisket supports using the WordPress theme customizer to manage colors plus header and background images.
Brisket also includes code and scripts that change the layout or add features, including:
optional support for CSS animations across the site
centering the logo and putting the primary navigation menu on the left and the secondary navigation on the right of that logo
adding a setting to disable the mobile menu
adding a new page layout option and setting it to the default layout for the home page
adding a Portfolio custom post type (in addition to the Menu Items custom post type)
Introduced on 1/11/16, Brisket is a 2 column theme with a 4 layout options. Three of the 6 standard Genesis layout options have been removed to simplify content creation, and a new layout option has been added. The theme includes landing and portfolio page templates. Beyond the WordPress standards of custom menus and threaded comments, the Brisket theme also supports custom headers, a custom background, and a mobile specific menu.
Brisket also supports Google web fonts (specifically Nunito and Pathway Gothic One).
Excluding the featured header which can be turned into a widget area, here are all of the widget areas for the Brisket theme:

We've got a live demo of the Brisket theme that shows off its basic features.
The Brisket theme is available on our plans with premium themes, from PERFORMplus and up.
If you haven't signed up for one of our plans, you can ask pre-sales questions about the Brisket theme by reaching out via our contact form. Existing customers should use our ticket-based email support to ask questions about the Brisket theme.