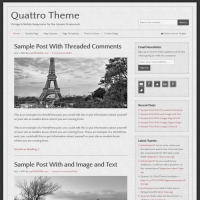 The Quattro theme from StudioPress puts a retro look on a mobile responsive blog style theme. The home page makes use of the Genesis grid loop to display 2 posts with a featured image, followed by 4 posts in a grid. All of the content is set on top of textured backgrounds for added visual interest. Designed by Brian Gardner, the founder of StudioPress, Quattro is for those who want a theme "where they can just write."
Released on 7/27/12, Quattro is a 2 or 3 column theme with 6 layout options, 3 color styles (blue, brown, and gray), and a blog style home page. Beyond the WordPress standards of custom menus and threaded comments, Quattro also supports custom headers, custom backgrounds, and Google web fonts. In contrast to some recent StudioPress themes that added support for Google web fonts via @import in the style sheet, Quattro enqueues the font via a function in functions.php.
The Quattro theme has a total of 6 widget areas, 3 of which are footer widgets that divide the page into equal parts.
All of the supported widget areas for the Quattro theme are shown below: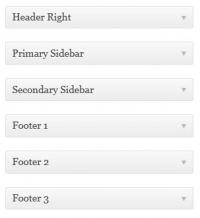 If you haven't signed up for one of our plans, you can ask pre-sales questions about the Quattro theme by reaching out via our contact form. Existing customers should use our ticket-based email support to ask questions about the Quattro theme.