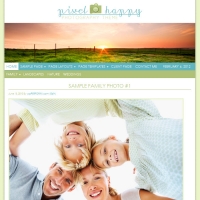 The Pixel Happy theme from StudioPress has a few touches designed to appeal to photographers.
If the WP-Cycle plugin is activated, Pixel Happy will use that plugin to run a slideshow above the main navigation menu. In addition, Pixel Happy loads a script that disables the right click context menu on browsers. That makes it slightly more difficult – but not impossible – for a site visitor to save a local copy of an image from your site.
But Pixel Happy is not exclusively for photographers. The posts on our demo site contain large format images and no text. Different post content would better show off what is at the core of Pixel Happy: a colorful blog-style theme.
Released on 3/4/10, Pixel Happy is a 2 or 3 column theme with 6 layout options and a blog style home page. Pixel Happy supports the WordPress standards of custom menus and threaded comments.
The Pixel Happy theme has a total of 6 widget areas, 3 of which are footer widgets that divide the page into equal parts.
All of the supported widget areas for the Pixel Happy theme are shown below: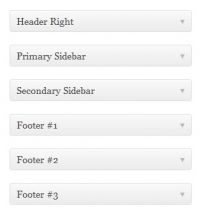 If you haven't signed up for one of our plans, you can ask pre-sales questions about the Pixel Happy theme by reaching out via our contact form. Existing customers should use our ticket-based email support to ask questions about the Pixel Happy theme.