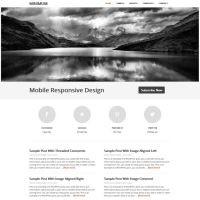 The Minimum 2 theme from StudioPress is an updated version of the
original Minimum theme
, adding mobile responsive design and a portfolio custom post type that's a great showcase for images. In August of 2013, StudioPress introduced an HTML5-compliant update to Minimum 2 named
Minimum Pro
. For new sites or those looking for a theme refresh, be sure to check out Minimum Pro before spending much time with Minimum 2.
Until you put content in at least 1 widget area, Minimum 2 displays a blog style home page. Once you start building your site by putting content in widgets, the Minimum home page includes a mix of content from widget areas and posts arranged in a grid.
In the original version of this theme, a large image that's specified in the theme's functions.php file is prominent on the home page. If you were using that version, you'd either have to edit that file or upload your own image using the same name and location as the original theme. We think that's a little inflexible, so we've added our own unique modifications to the theme. We've widgetized the area where the featured image would appear on the home page, so you can use an image (via a text widget) or any other widget of your choice, including a responsive slider.
Updated on 9/19/12, Minimum 2 is a 2 column theme with 3 layout options and a widgetized home page. Three of the standard Genesis layouts have been removed to simplify content creation. Beyond the WordPress standards of custom menus and threaded comments, Minimum 2 also supports custom headers, custom backgrounds, and Google web fonts (specifically, Open Sans). The selected font adds about 21 Kb to the site's page weight, which is a very modest addition for typography.
Our customized Minimum 2 theme has a total of 11 widget areas, 3 of which are footer widgets that divide the page into equal parts. There's also a Custom Footer widget that appears just above the footer widgets.
All of the supported widget areas for our customized Minimum 2 theme are shown below: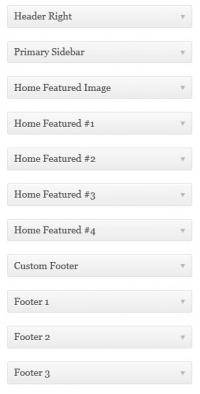 If you haven't signed up for one of our plans, you can ask pre-sales questions about the Minimum 2 theme by reaching out via our contact form. Existing customers should use our ticket-based email support to ask questions about the Minimum 2 theme.