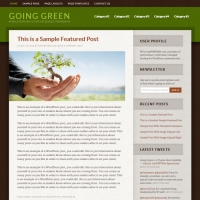 The Going Green 2 theme is an updated version of the
original Going Green theme
, adding mobile responsive design and a landing page template. It combines vibrant colors around plenty of white space in the content area to let your site content stand out. The Going Green 2 home page makes use of the Genesis grid loop to display 2 posts with a featured image, followed by 4 posts in a grid. All of the content is set on top of textured backgrounds for added visual interest.
Going Green 2 underwent a major refresh to become the Going Green Pro theme, featuring HTML5-compliant markup. If you're looking to launch a new site or update your existing site, you should check out Going Green Pro before activating this theme.
Initially released on 8/23/12, Going Green 2 is a 2 column theme with 3 layout options and a blog style home page. Beyond the WordPress standards of custom menus and threaded comments, Going Green 2 also supports custom headers, custom backgrounds, and Google web fonts. Going Green 2 follows the recent approach adopted by StudioPress to enqueue Google web fonts via a function in functions.php rather than using an @import rule in the style sheet.
The Going Green 2 theme has a total of 5 widget areas, 3 of which are footer widgets that divide the page into equal parts.
All of the supported widget areas for the Going Green 2 theme are shown below: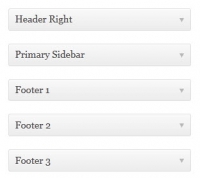 If you haven't signed up for one of our plans, you can ask pre-sales questions about the Going Green 2 theme by reaching out via our contact form. Existing customers should use our ticket-based email support to ask questions about the Going Green 2 theme.