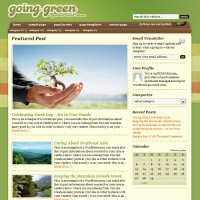 The Going Green theme from StudioPress tightly stacks primary and secondary navigation menus in a distinctive way, making it a great choice for sites that need to squeeze a lot into their menus without giving up too much screen real estate.
Going Green underwent several major updates to ultimately become the Going Green Pro theme, featuring HTML5-compliant markup. If you're looking to launch a new site or update your existing site, you should check out Going Green Pro before activating this theme. One big change over the course of these updates is a switch to a blog-style layout on the home page, so before activating a new theme, make sure you're ready to put the world of widgetized home pages in your past.
Released on 5/5/10, Going Green is a 2 or 3 column theme with 6 layout options and a widgetized home page. It supports the WordPress standards of custom menus and threaded comments.
The Going Green theme has a total of 7 widget areas, 3 of which are footer widgets that divide the page into equal parts. As you can see from our demo, these widgets display an explanation of their function until they're filled with your content.
All of the supported widget areas for the Going Green theme are shown below: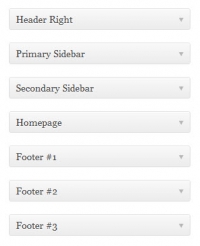 If you haven't signed up for one of our plans, you can ask pre-sales questions about the Going Green theme by reaching out via our contact form. Existing customers should use our ticket-based email support to ask questions about the Going Green theme.