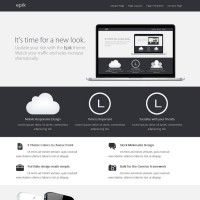 The Epik theme from Appfinite is a mobile responsive theme with a heavily
widgetized home page
. It's
HTML5-compliant
.
Epik creates up to 13 bands on the home page, some with up to 4 columns, into which you can place widgets. Of course, you don't have to use all of these bands, but they're there if you think having that much content on your home page is a good idea.
First released on 2/11/13 and updated on 6/18/14, Epik is full of distinctive custom styling for common needs, such as testimonials and buttons. It's a 3 column theme with 6 layout options and 10 color styles (black, blue, dark blue, gray, green, orange, pink, purple, red, and gray-black, the default). The June 2014 updated added a mobile-specific menu to further improve the theme's look on mobile devices plus an After Entry widget area.
Beyond the WordPress standards of custom menus and threaded comments, Epik also supports custom headers, custom backgrounds, and Google web fonts (specifically, Open Sans). The selected font and weights add about 67 Kb to the site's page weight, which is a modest amount.
Here are all of the widget areas for the Epik theme: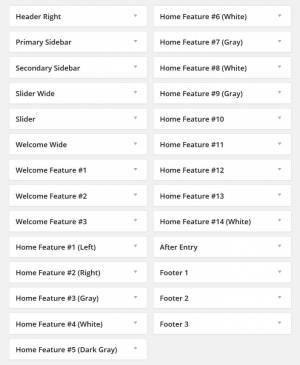 That's such a long list of widget areas, we had to turn it into a two-column display for presentation purposes. The sheer number of widget areas can make setting up Epik a challenge for newcomers.
Epik also includes 2 page templates, a landing page and a portfolio page. Unlike many StudioPress themes that use a custom post type for a portfolio, Epik makes use of a standard WordPress post category and provides a settings metabox with options to manage the portfolio page. Here's a snapshot of the portfolio page on our demo: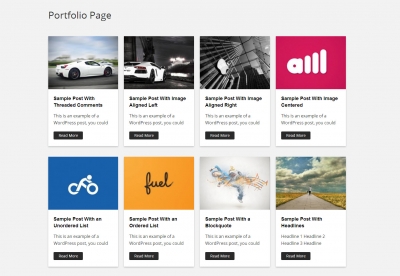 We've got a live demo of the Epik theme that shows off its basic features.
The Epik theme is available on our plans with premium themes, from PERFORMplus and up.
If you haven't signed up for one of our plans, you can ask pre-sales questions about the Epik theme by reaching out via our contact form. Existing customers should use our ticket-based email support to ask questions about the Epik theme.