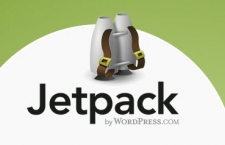 Jetpack by WordPress.com
is a powerful plugin that combines many features into a single tool. Moreover, because Jetpack is developed and maintained by Automattic, a company that's strongly behind WordPress, the plugin receives regular updates and support. This article covers how to activate Jetpack in WordPress, including basic configuration.
In normal operation, Jetpack requires a connection to WordPress.com because some features of the plugin, such as the Stats module, make use of and store data on its servers. The connection can be established by having or creating a free account on that site. If you don't want to connect your site to a WordPress.com account, we make it easy for you to run Jetpack in development mode, which doesn't require a connection to WordPress.com.
Jetpack supports:
Publicize – Connects your site to popular social networks and supports sharing new posts
WordPress.com Stats – Delivers site stats in your dashboard
Notifications – Adds notifications from your sites to the Toolbar
Jetpack Comments – Provides a new comment system with support for social media logins
Subscriptions – Allows users to subscribe to your posts and comments
Carousel – Turns standard WordPress media galleries into full-screen photo browsing experiences
Post by Email – Allows you to publish posts by email
Likes – Allows users logged in to a WordPress.com account to like your posts
Sharing – Allows visitors to share content from services you've configured
Spelling and Grammar – Makes use of After the Deadline proofreading service
VaultPress – Links to Automattic's paid backup service
Gravatar Hovercards – Displays a pop up card when you hover over a gravatar
Contact Form – Allows you to easily insert a contact form on your site
WP.me shortlinks – Generates shortlinks for sharing, such as on social media
Tiled Galleries – Creates magazine-style mosaic layouts of images
Custom CSS – Allows you to create custom styling rules for your site
Shortcode Embeds – Adds shortcodes to embed videos
Mobile Theme – Provides a mobile version of your site to mobile visitors, with an option to switch to the full version
Beautiful Math – Supports LaTeX, a markup for complex equations
Extra Sidebar Widgets – Adds an RSS Links Widget, a Twitter Widget, a Facebook Like Box Widget, and an Image Widget
Infinite Scroll – Allows archives and other displays to continuously load new posts as a visitor scrolls down the page
Photon – Supports a free content delivery network (CDN) for your images using WordPress.com servers
JSON API – Allows authorized applications to connect to your site
Mobile Push Notifications – Allows users of the WordPress for IOS app to receive push notifications of new comments
Enhanced Distribution – Authorizes Jetpack to automatically share your content with third-party services, such as search engines

Following our Jetpack tag archive makes it easy to keep up with changes to the plugin.

Activating Jetpack

To activate Jetpack, visit the Plugins menu, scroll down to the plugin in the list, and click the link to Activate.

When you activate Jetpack, the first thing you'll need to do is connect Jetpack running on your site to WordPress.com. To do that, you'll need your WordPress.com account credentials. If you don't have an existing account, go ahead and create one by visiting WordPress.com. You can associate multiple sites running Jetpack to a single WordPress.com account. If you have access to multiple WordPress.com accounts, give some thought to which account best serves the site you're connecting and choose wisely. If you connect to the wrong account, you can fix that, but it means you'll be repeating many of these steps.

To connect Jetpack to your WordPress.com account, simply sign into that account using a different tab and the same browser you're using to access the dashboard of your site. Once signed in, navigate back to your site dashboard and click the Connect to WordPress.com button, as shown in the image above. You'll be prompted to authorize the connection from your site to your WordPress.com account, as shown below.

Your site and account information will appear in the blurred areas. Click Authorize Jetpack to establish the connection.

While your site is connected, you can use those Jetpack features that require a connection.

If you want to disconnect Jetpack from a WordPress.com account, visit the Jetpack menu in your dashboard and hover over the status button indicating you're Connected To WordPress.com. The button will turn red and allow you to disconnect your site from your WordPress.com account. When you click the button, you'll be prompted to confirm the disconnect action.

Click Ok to complete disconnecting from WordPress.com.

Configuring Jetpack

Jetpack requires a small amount of configuration to tailor its operation to the needs of your site. Configuration focuses on 2 things:
Deactivating modules you don't need or want
Stopping new modules from being activated automatically
Deactivating Jetpack Modules
While Jetpack represents a bundle of popular features, each one of its features might not be useful for your site. For some features, you may use other plugins that provide more advanced capabilities. In most cases, these unused Jetpack modules will simply add a small but unnecessary amount of page weight to your site.
In other situations, an active Jetpack module can create a conflict with another plugin. For example, the Shortcode Embeds module adds shortcodes to your site that may conflict with shortcodes used by another plugin. If you want to use the other plugin and Jetpack together, you'll have to disable the Shortcode Embeds module.
To deactivate a module in Jetpack, click the Learn More button.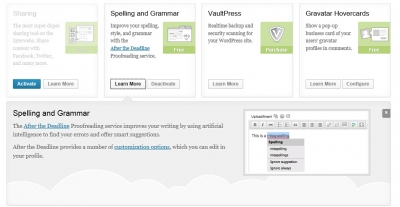 As shown in the above screenshot, you'll see a description of what the module does and a button to deactivate it. Click the Deactivate button to deactivate that specific module, and repeat the process for every module you want to deactivate. When a module is deactivated, it will be dimmed in the display of all available Jetpack modules.
When deciding whether to deactivate a module, it's important to let the strength of each module stand on its own. For example, the Custom CSS module offers a great way to record custom styling rules for your wpPERFORM site. On the other hand, as currently configured the Photon module does not support cache invalidation. In other words, images are cached forever. The only way to update an image is to change the name of the image. Combined with other limitations of the WordPress media manager, we consider the lack of cache invalidation to be a big weakness. Because we look at the features of each module independently, we always keep the Custom CSS module activated and always deactivate the Photon module. Jetpack gives us – and you – the flexibility to use the strong modules and skip the weak ones.
Stopping New Modules from Being Activated Automatically
Jetpack is a great plugin, but it has an annoying characteristic (note that we're not referring to this as a "feature", because it's not): it automatically activates new modules. Because Jetpack is updated regularly, those automatic activations can include a new module that you don't want or conflicts with an existing plugin on your site. Since we can install an update to Jetpack that includes new modules, that update can break something that's working satisfactorily on your site.
To fix that annoying characteristic and put you back in control of which modules are loaded on your site, Mark Jaquith, one of the lead developer's of WordPress, has a handy plugin: Manual Control for Jetpack. Once activated, Mark's plugin puts a stop to automatic activation of new modules. We always recommend activating Manual Control for Jetpack on every site using Jetpack.
If you want to keep control of whether new modules are activated, visit the Plugins menu, scroll down the page to find the Manual Control for Jetpack plugin, and activate it.
We'll update this post as new modules or features are added to Jetpack. With Manual Control for Jetpack activated, you can decide whether to activate these new modules on your site.