Our wpPERFORM.com Tweetable Text plugin uses Twitter's Web Intent to compose a tweet from a link.
The tweetable shortcode combines with 4 parameters to tailor the tweet that is automatically prepared for a visitor that clicks the link. Note that the text for your link is wrapped in an opening and closing shortcode.
Properly formed shortcodes will create output similar to: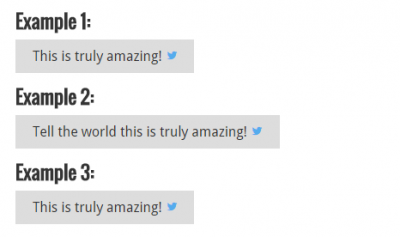 Examples 1 and 2 shown above open an identical browser window, as shown below. The alt parameter is used in Example 2 to make the tweet message different from the link text. That allows tailoring the link text to encourage visitors to actually click the link while at the same time making the tweet relevant to a broader audience.

Example 3 shown above includes a link in the tweet that's different from the page where the shortcode appears. That allows you to use tweets to promote a single URL from multiple URL's on your site.

The plugin doesn't send tweets – it just automatically prepares them for your visitors so they can send them if they choose. A visitor will need to have a Twitter account and to be logged in to that account to actually send the tweet that the plugin automatically prepares. And after preparing the tweet, a visitor is free to edit the tweet before actually sending it.
wpPERFORM.com Tweetable Text makes use of dashicons to add the Twitter image to the end of your link text and includes basic CSS to style the link, which can be modified with custom CSS.