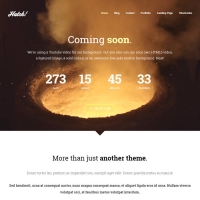 The Hatch theme from Themedy is an
HTML5-compliant
,
mobile responsive
theme that's designed to display a static page on the home page. That static page is surrounded by user-configurable content that appears both above and below the page content. The theme's countdown timer combined with an easy-to-configure subscription area make Hatch a great choice to capture sign ups for an upcoming event.
Typical of themes by Themedy, Hatch includes a list of features that are configurable on the Appearance->Themedy Settings menu.
The home page includes 1 featured area that appears above the static page content and another that appears below. For the top featured content, there are settings to show a countdown timer; some content with a title, a button with a link; and a background. One of Hatch's distinguishing features is that the background for this area can be either the featured image for the static page content, a solid color, a lightshow, or a video (where the audio is muted and no video controls are shown). The video option carries one important caveat: YouTube video backgrounds won't play the video on mobile devices. There's also an option to apply noise/vignetting to this area. The featured area below the static page content can show a configurable number of posts from a Features custom post type or be turned into a widget area that provides even more customization options.
On every page, Hatch can display a subscription area and a footer, either of which can be turned off site-wide via a theme setting. The subscription area supports either a custom form action URL or custom HTML/shortcodes. For even more flexibility, it can be turned into a widget area.
Hatch supports using the WordPress theme customizer to manage colors plus header and background images.
Hatch also includes code and scripts that change the layout or add features, including:
configuring when to show the mobile menu, including showing it on all screen widths
optional display of the page loading progress (enabled on our demo)
optional display of noise/vignetting on the top featured area on the home page
optional display of a countdown to an event scheduled on an end date and time
support for 12 social links which are displayed below the subscription area
optional support for CSS animations across the site
adding support for the icon font FontAwesome
adding a Portfolio custom post type (in addition to the Features custom post type)
displaying the title on top of the featured image above post/page content
the ability to add a post/page subtitle via a custom field of themedy_tag (see our Hatch demo Contact page)
ability to replace the post title displayed on top of the featured image via a custom field of themedy_title
Introduced on 6/15/15, Hatch is a 2 column theme with a 3 layout options. Three of the 6 standard Genesis layout options have been removed to simplify content creation. The theme includes landing and portfolio page templates. Beyond the WordPress standards of custom menus and threaded comments, the Hatch theme also supports custom headers and a mobile specific menu.
Hatch also supports Google web fonts (specifically Roboto Slab).
Excluding theme settings that can be turned into widget areas as discussed above, Hatch supports a single widget area for the Primary Sidebar.
We've got a live demo of the Hatch theme that shows off its basic features.
The Hatch theme is available on our plans with premium themes, from PERFORMplus and up.
If you haven't signed up for one of our plans, you can ask pre-sales questions about the Hatch theme by reaching out via our contact form. Existing customers should use our ticket-based email support to ask questions about the Hatch theme.