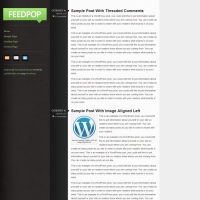 The Feedpop theme from Themedy is a simple
blog style home page
adorned with a horizontal menu in the sidebar. It includes a landing page template and a custom widget to display up to 5 fixed social icons: RSS, email, Twitter, Facebook, and LinkedIn. If you want a different set of social icons, you'll have to activate a plugin.
Feedpop also includes settings to include categories or comments in the post info column and 6 color styles (blue, dark, green, pink, red, and black – the default). Themedy's custom shortcodes also work with the theme.
One note: although Themedy refers to the text which appears at the bottom of the sidebar as "custom footer text", it's actually in the sidebar, not in the footer. Therefore, the standard Genesis footer shortcodes won't function in this location.
Introduced on 03/22/11, Feedpop is a 2 column theme with a single layout option. Five of the 6 standard Genesis layout options have been removed to simplify content creation. Feedpop supports the WordPress standards of custom menus and threaded comments but lacks support for custom headers and custom backgrounds.
Here are all of the widget areas for the Feedpop theme: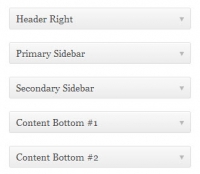 And here's a full length image of the theme's home page:

If you haven't signed up for one of our plans, you can ask pre-sales questions about the Feedpop theme by reaching out via our contact form. Existing customers should use our ticket-based email support to ask questions about the Feedpop theme.