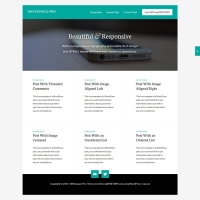 The Whitespace Pro theme from StudioPress is an
HTML5-compliant
,
mobile responsive
theme with a
blog-style home page
.
The theme is a great example of the power of the WordPress theme customizer, which supports choosing a header image as well as background, accent, and highlight colors from a color picker with a virtually unlimited color selection. The theme customizer immediately shows a preview to make the selection process easier. Instead of a background color, you can specify a background image that's automatically fit to the screen size by Backstretch.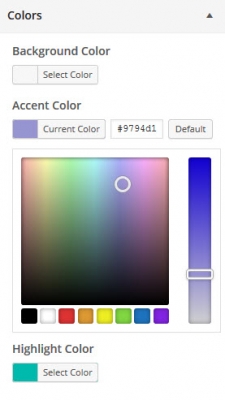 Introduced on 11/17/14, Whitespace Pro is a
1 column
theme with a single full width layout option (ie, there are no sidebars). Five of the 6 standard Genesis layout options have been removed to keep the focus on the main content area. The theme includes a landing page template. Beyond the WordPress standards of custom menus and threaded comments, the Whitespace Pro theme also supports custom headers and a
mobile specific menu
. There's no
Header Right
widget area in this theme, which keeps the logo text or image in a prominent position in the center of the page.
Whitespace Pro also supports Google web fonts (specifically Lato, Neuton, and Playfair Display). The selected fonts and weights add about 116 Kb to the page weight of the site. Whitespace Pro loads dashicons which brings the total addition to about 162 Kb on our demo, which uses the Simple Social Icons plugin. That's a reasonable addition for a blog-style theme with a focus on typography.
Here are all of the widget areas for the Whitespace Pro theme:

We've got a live demo of the Whitespace Pro theme that shows off its basic features.
The Whitespace Pro theme is available on our plans with premium themes, from PERFORMplus and up.
If you haven't signed up for one of our plans, you can ask pre-sales questions about the Whitespace Pro theme by reaching out via our contact form. Existing customers should use our ticket-based email support to ask questions about the Whitespace Pro theme.