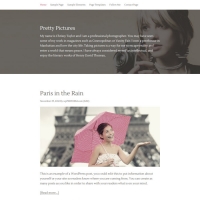 The Pretty Pictures theme from StudioPress features a
blog style home page
designed to keep attention focused on your blog posts. There is a single layout option where all sidebars have been removed, and there's just 1 widget area, which is used for the text over the image at the top of the home page on our Pretty Pictures demo. The image itself is controlled by a custom header and re-sized using the
Backstretch
script, which resizes an image to fill a browser window.
Introduced on 12/20/12, Pretty Pictures is a 1 column theme with just 1 layout option. The secondary navigation menu has been removed. Beyond the WordPress standards of custom menus and threaded comments, Pretty Pictures also supports custom headers, 2 post formats (quote and gallery), and Google web fonts (specifically, Lustria). The selected font adds about 17 Kb to the site's page weight, which is a very modest amount for typography.
Here are all of the widget areas for the Pretty Pictures theme: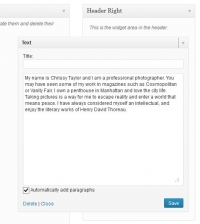 And here's a full length image of the theme's home page:

If you haven't signed up for one of our plans, you can ask pre-sales questions about the Pretty Pictures theme by reaching out via our contact form. Existing customers should use our ticket-based email support to ask questions about the Pretty Pictures theme.