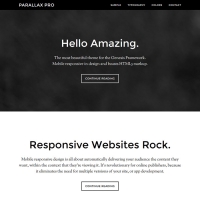 The Parallax Pro theme from StudioPress is an
HTML5-compliant
,
mobile responsive
design whose name gives the misleading impression that it makes use of the
parallax effect
. While it doesn't necessarily show off the parallax effect, it's a stunning theme nonetheless.
Parallax Pro features up to 5 widgetized "stripes" on the home page. For the odd-numbered stripes (the first, third, and fifth), you can specify a background image, which should be at least 1140 px wide. The images in our demo are 1600 px X 1050 px. If you opt to use 3 unique images, what you end up with is a home page with 3 sections having different backgrounds, and that's not what the parallax effect is about. Instead, if you use crop a single image into 3 different stripes, you're getting closer to the parallax effect.
The theme includes a few other adjustments, such as:
adding the image classes of pull-right and pull-left to shift images using a negative margin as shown in this Parallax Pro sample blog post;
creating an over-sized footer that is in effect a sixth stripe (assuming you used the other 5);
putting the secondary navigation menu at the bottom of the page below the footer;
not setting any custom image sizes (instead use Settings->Media to specify them).
Introduced on 2/3/14 and updated on 4/21/14, Parallax Pro is a 2 column theme with 3 layout options. Three of the 6 standard Genesis layout options have been removed to simplify content creation. The theme includes a landing page template. Beyond the WordPress standards of custom menus and threaded comments, the Parallax Pro theme also supports custom headers, custom backgrounds (but only on the home page!), a mobile specific menu, multiple color styles (blue, green, orange, pink, and red – the default), and Google web fonts (specifically Montserrat and Sorts Mill Goudy). The selected fonts add about 58 Kb to the page weight of the site, which is a modest addition for typography. However, Parallax Pro also loads some non-Google fonts, such as dashicons, which brings the total addition to about 83 Kb.
Here are all of the widget areas for the Parallax Pro theme: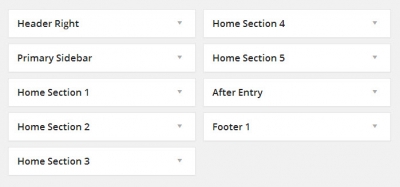 And here's a full length image of the theme's home page:

We've got a live demo of the Parallax Pro theme that shows off its basic features.
The Parallax Pro theme is available on our plans with premium themes, from PERFORMplus and up.
If you haven't signed up for one of our plans, you can ask pre-sales questions about the Parallax Pro theme by reaching out via our contact form. Existing customers should use our ticket-based email support to ask questions about the Parallax Pro theme.