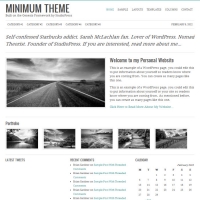 As its name suggests, the Minimum theme from StudioPress is designed with plenty of white space, so theme styling doesn't overwhelm content. Minimum features a landing page template, which takes away even more of the theme background. If you're considering activating Minimum on a new site, be sure to check out
Minimum Pro
, an updated version that features a
mobile responsive design
and
HTML5
support.
Released on 6/16/11, Minimum is a 2 or 3 column theme with 6 layout options and a widgetized home page. Beyond the WordPress standards of custom menus and threaded comments, Minimum also supports custom headers, custom backgrounds, and Google web fonts (specifically, Droid Serif and Oswald). The selected fonts add about 98 Kb to the site's page weight, which is a lot for typography.
The Minimum theme has a total of 9 widget areas, 3 of which are footer widgets that divide the page into equal parts.
All of the theme's supported widget areas are shown below: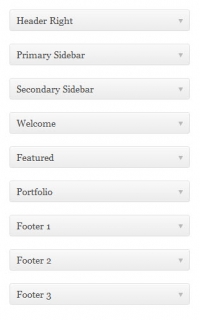 If you haven't signed up for one of our plans, you can ask pre-sales questions about the Minimum theme by reaching out via our contact form. Existing customers should use our ticket-based email support to ask questions about the Minimum theme.