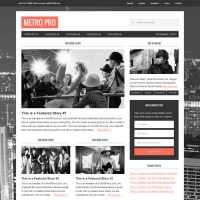 The Metro Pro theme from StudioPress is a wide, magazine style, mobile responsive theme with a
widgetized home page
. It's the
HTML5-compliant
refresh of the popular
Metro
theme. While both versions have decent widget support on the home page, if you opt not to make use of the home page widgets, you can have a
blog-style home page
.
So beyond the HTML5 update, what's new about Metro Pro compared to its predecessor? It's just a touch narrower – 1140 px vs 1152 px for the original version. It has 1 less widget area – the Subnav – Left area has been dropped. However, that doesn't represent a loss of functionality, because some neat styling tricks have been added to let you put clickable links in the same area using the custom menu functions of WordPress. Consistent with the change to HTML5, the After Post widget area has been appropriately renamed to After Entry. The orange color scheme has been dropped from Metro Pro, but this wasn't a real loss. We pointed out to StudioPress back in February that although orange appeared in the color drop down choices for Metro, there was no orange styling.
Otherwise, Metro Pro is virtually identical to the version released earlier in 2013. Metro Pro includes a landing page template and 5 color styles (blue, green, pink, red, and black – the default).
Introduced on 9/3/13, Metro Pro is a 3 column theme with 6 layout options. Beyond the WordPress standards of custom menus and threaded comments, Metro Pro also supports custom headers, custom backgrounds with the Backstretch script, and Google web fonts (specifically Oswald). The selected font and weight adds about 22 Kb to the site's page weight, which is a modest amount for typography.
Here are all of the widget areas for the Metro Pro theme: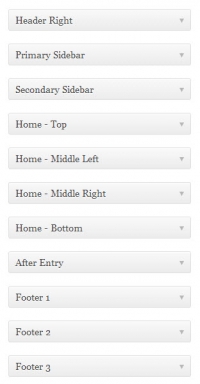 And here's a full length image of the theme's home page: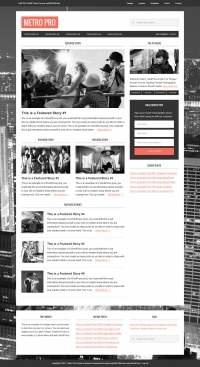 We've got a live demo of the Metro Pro theme that shows off its basic features.
The Metro Pro theme is available on our plans with premium themes, from PERFORMplus and up.
If you haven't signed up for one of our plans, you can ask pre-sales questions about the Metro Pro theme by reaching out via our contact form. Existing customers should use our ticket-based email support to ask questions about the Metro Pro theme.