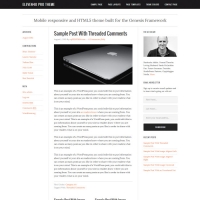 The eleven40 pro theme from StudioPress is one of 2
HTML5
-compliant themes released with the launch of Genesis 2.0, the first version to include support for that markup. It's an update to the
original eleven40 theme
with few if any stylistic changes. Both themes are available on our plans with premium themes, but for new sites, we recommend using the HTML5-compliant eleven40 pro.
Like its predecessor, the eleven40 pro theme features a blog style home page that is hard-coded to display 5 posts, 4 of which are presented using a grid loop. It drops 2 widget areas from the previous version: the page title and after post widget areas. The theme now grabs your site's tagline (see Settings->General in your WordPress dashboard) and puts that content in the space of the old page title widget area.
Released on 8/7/13 and updated on 4/18/14, eleven40 pro is a 2 or 3 column theme with 6 layout options and 4 color styles (blue, green, red, and orange, the default). It includes a widget area for the top of the page just below the navigation menus and a single widget area for each sidebar. There are a total of 6 widget areas, 3 of which are footer widgets that divide the page into equal parts.
On 3/3/14, eleven40 pro was updated along with other StudioPress themes, but eleven40 pro received a few bigger changes. The Header Right widget area was dropped; if you specify a primary navigation menu, it appears in the space formerly occupied by this widget area. In addition, the theme now supports a mobile-specific menu.
Beyond the WordPress standards of custom menus and threaded comments, eleven40 pro also supports Google web fonts (specifically, Lora and Oswald). The selected fonts and weights add about 73 Kb to the site's page weight, which is a reasonable addition for typography.
All of the supported widget areas for the eleven40 pro theme are shown below:

Here's a full view of the home page: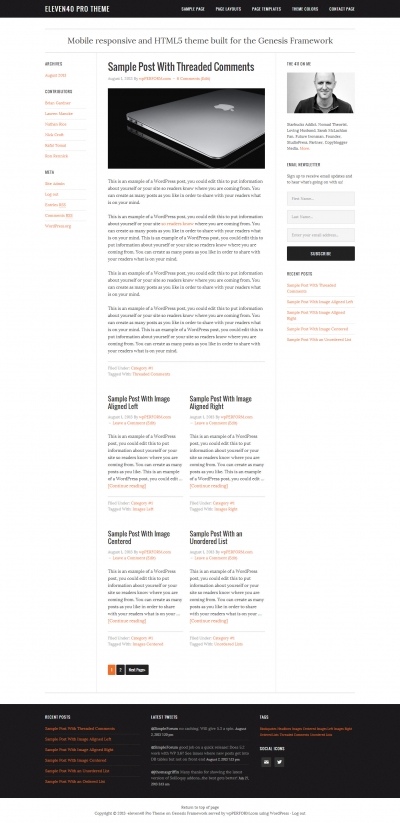 We've got a live demo of the eleven40 pro theme that shows off its basic features.
The eleven40 pro theme is available on our plans with premium themes, from PERFORMplus and up.
If you haven't signed up for one of our plans, you can ask pre-sales questions about the eleven40 pro theme by reaching out via our contact form. Existing customers should use our ticket-based email support to ask questions about the eleven40 pro theme.