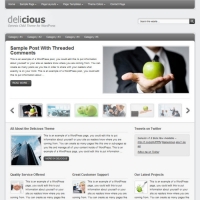 The Delicious theme from StudioPress features its own slider widget to display a scrollable collection of thumbnails. Clicking on each thumbnail displays a larger image just above the slider, each of which is linked to a post. Posts are easily selected by choosing a single category and the number of posts to display.
Released on 7/29/10, Delicious is a 2 or 3 column theme with 6 layout options, 3 color styles (gray, blue, and brown), and a widgetized home page. The gray color style is the default. If you'd like to use a color style other than the default, you'll need to activate the Genesis Style Select plugin and choose an alternate color style.
Delicious supports the WordPress standards of custom menus and threaded comments.
The Delicious theme has a total of 9 widget areas.
All of the supported widget areas for the Delicious theme are shown below: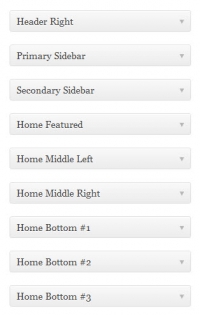 If you haven't signed up for one of our plans, you can ask pre-sales questions about the Delicious theme by reaching out via our contact form. Existing customers should use our ticket-based email support to ask questions about the Delicious theme.