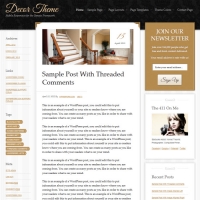 The Decor theme from StudioPress is a responsive blog style theme with multiple color and layout options highlighted by subtle touches of distinctive typography. Note how a simple "Sign Up" button in the right sidebar becomes a real eye-catcher with a cursive Google Web Font, Great Vibes!
Released on 5/1/12, Decor is a 2 or 3 column theme with 6 layout options and 4 color styles (amethyst, copper, gold, and silver). Beyond the WordPress standards of custom menus and threaded comments, Decor also supports custom headers, custom backgrounds, and Google web fonts (specifically, Great Vibes). The selected font adds about 24 Kb to the site's page weight, which is a very modest amount for typography.
The Decor theme has a total of 6 widget areas, 3 of which are footer widgets that divide the page into equal parts.
All of theme's supported widget areas are shown below: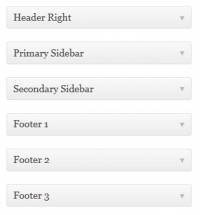 If you haven't signed up for one of our plans, you can ask pre-sales questions about the Decor theme by reaching out via our contact form. Existing customers should use our ticket-based email support to ask questions about the Decor theme.