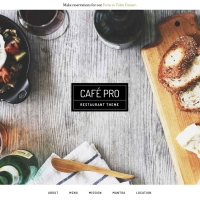 The Café Pro theme from StudioPress is an
HTML5-compliant
,
mobile responsive
theme with a
widgetized home page
.
Don't be fooled into thinking this theme is only for restaurants. Its flexible approach to home page widgets makes it suitable for a wide range of sites. Café Pro divides home page widgets into columns of equal widths based on the number of widgets you place into a widget area. For example, if you put 2 widgets into a widget area, each will use about 1/2 of the 1200 px maximum width. If you place 3 widgets, each will use about 1/3 of that maximum width.
The screenshot below illustrates how home page widget areas are presented based on the number of widgets placed into those widget areas. Note that when 5 or 7 widgets are placed into a single widget area, every row doesn't contain the same number of widgets, even though the overall width of each row is the same. In the unlikely event you place more than 9 widgets into a single widget area, each will use about 1/3 of the maximum width.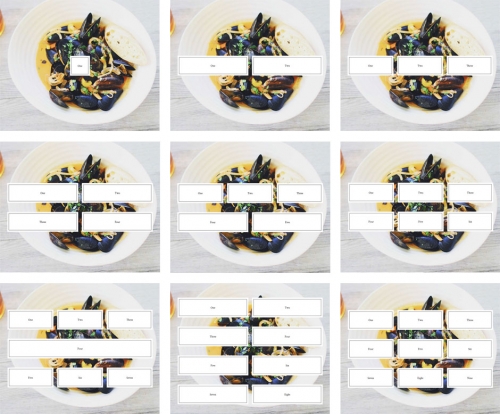 Following in the pattern of recent StudioPress theme releases, Café Pro is a great example of the power of the WordPress theme customizer, which supports choosing a header image as well as an accent color from a color picker with a virtually unlimited color selection. You can specify up to 3 background images for the home page that are automatically fit to the screen size by Backstretch. Our demo site uses the default images included with the theme, which are 2000 px wide by 1292-1478 px high. The theme customizer immediately shows a preview to make the selection process easier.
Café Pro also includes code and scripts that add features, including:
shrinking the primary navigation menu and sticking it to the top of the browser viewport once a visitor scrolls just past the menu itself
a footer menu in addition to a primary and secondary navigation menus
Introduced on 12/18/14, Café Pro is a 2 column theme with 3 layout options. Three of the 6 standard Genesis layout options have been removed to simplify content creation. The theme includes a landing page template. Beyond the WordPress standards of custom menus and threaded comments, the Café Pro theme also supports custom headers and a mobile specific menu.
Café Pro also supports Google web fonts (specifically Crimson Text and Dosis). The selected fonts and weights add about 119 Kb to the page weight of the site. Café Pro loads dashicons which brings the total addition to about 159 Kb on our demo. That's a still-reasonable addition for typography, but sites that use 3 background images will almost certainly have over 1.2 Mb of page weight on an uncached home page view. Of course, for repeat visitors with most of that content in a browser cache, page weight drops sharply.
Here are all of the widget areas for the Café Pro theme:
We've got a live demo of the Café Pro theme that shows off its basic features.
The Café Pro theme is available on our plans with premium themes, from PERFORMplus and up.
If you haven't signed up for one of our plans, you can ask pre-sales questions about the Café Pro theme by reaching out via our contact form. Existing customers should use our ticket-based email support to ask questions about the Café Pro theme.