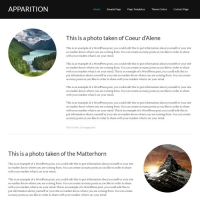 The Apparition theme from StudioPress is a mobile responsive theme with a
blog style home page
. It uses the
border-radius
property in its stylesheet to turn featured images into a distinctive circular format. All sidebars have been removed from the theme to focus a reader's attention on the main content area. To further that goal, the traditional WordPress "post info" block (post date, post author, and comments info) has been swapped into the "post meta" block, effectively removing the traditional "post meta" elements of categories and tags. Apparition also includes a landing page template and 5 color styles (green, orange, pink, red, and blue – the default).
Introduced on 10/16/12, Apparition is a 1 column theme with just 1 layout option. Beyond the WordPress standards of custom menus and threaded comments, Apparition also supports custom headers, custom backgrounds, and Google web fonts (specifically, Lato and Lustria). The selected fonts add about 67 Kb to the site's page weight, which is a modest addition for typography.
Here are all of the widget areas for the Apparition theme: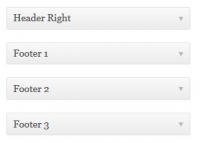 And here's a full length image of the theme's home page:

If you haven't signed up for one of our plans, you can ask pre-sales questions about the Apparition theme by reaching out via our contact form. Existing customers should use our ticket-based email support to ask questions about the Apparition theme.