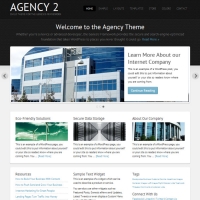 The Agency theme from StudioPress has been refreshed with an exciting mobile responsive design, a new mobile responsive slider, and WooCommerce integration. We've kept the original Agency theme available but updated our demo to showcase Agency 2's new features. We'll refer to the updated design as Agency 2.
In October 2013, Agency 2 was updated and renamed Agency Pro, which makes use of HTML5 markup supported by Genesis 2.0. If you're considering activating Agency 2 on a new site or looking for a way to bring a fresh look to an existing site using Agency, be sure to check out Agency Pro.
Along with the Agency 2 theme, StudioPress introduced 2 new plugins: Genesis Responsive Slider and Genesis Connect for WooCommerce. Genesis Responsive Slider enhances the mobile responsive design of Agency 2 by providing a mobile responsive slider based on the Flex Slider script. Genesis Connect for WooCommerce simplifies integration with the WooCommerce e-commerce plugin by providing Genesis-ready versions of the single product, product archive, and taxonomy templates, as well as supporting WooCommerce's breadcrumb format. Our Agency 2 demo site includes an e-commerce store built on the WooCommerce plugin with Genesis Connect for WooCommerce.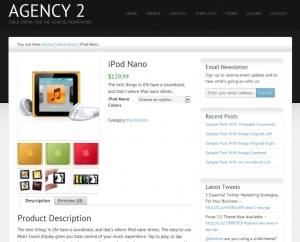 The Agency 2 theme features a widgetized home page that that will display a standard loop of posts if no widgets are used.
First released on 5/14/10 and updated on 3/15/12, Agency 2 is a 2 or 3 column theme with 6 layout options and 4 color styles. It includes 6 widget areas for the home page. Beyond the WordPress standards of custom menus and threaded comments, Agency 2 also supports custom headers, custom backgrounds, and Google web fonts (specifically, PT Sans). The selected font adds about 60 Kb to the site's page weight, which is a modest amount for typography.
The Agency 2 theme has a total of 11 widget areas, 3 of which are footer widgets that divide the page into equal parts.
All of the supported widget areas for the Agency 2 theme are shown below: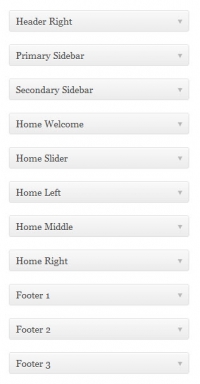 If you haven't signed up for one of our plans, you can ask pre-sales questions about the Agency 2 theme by reaching out via our contact form. Existing customers should use our ticket-based email support to ask questions about the Agency 2 theme.