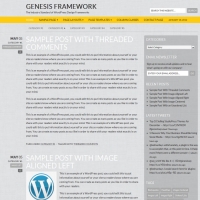 24K is a free child theme for the Genesis framework by StudioPress, the developer of Genesis.
Released on 11/7/11, 24K is a 2 or 3 column theme with 6 layout options and a blog-style homepage featuring a distinctive twist: it uses absolute positioning to pull post information, such as published date and author, away from post content. That gives even more room for your content to shine. Beyond the WordPress standards of custom menus and threaded comments, 24K also supports custom headers, custom backgrounds, and Google web fonts (specifically, Lato). The selected font adds about 46 Kb to the site's page weight, which is a modest addition for typography.
Just like other free child themes for the Genesis framework (e. g., Copyblogger, Fairway, Georgia, Nomadic, and the Sample Child themes), the 24K theme has a total of 6 widget areas, 3 of which are footer widgets that divide the page into equal parts.
All of the supported widget areas are shown below: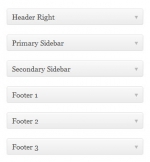 If you haven't signed up for one of our plans, you can ask pre-sales questions about the 24K theme by reaching out via our contact form. Existing customers should use our ticket-based email support to ask questions about the 24K theme.