Google Analytics is a tool to capture and report on traffic data and events that occur on a website or mobile application. It has both a free and a very expensive premium version, but we'll focus on the free version in this discussion.
We're going to assume you've already created a Google account, but if not, it's easy to create a new Google account. We're also going to assume you've already connected Google Analytics to your Google account, but if not, Google outlines how to get started with Analytics. We're starting from the point where you want to add a new site to an existing or new Google Analytics installation.
To set up a new site in Google Analytics, it's important to understand its basic structure. Then, you need to apply that structure to capture your traffic data in an easy-to-access way that maximizes data accuracy and flexibility to adapt to change. Google Analytics is a powerful tool, so we don't plan to review every setting or feature. In fact, we're going to skip over most of them and instead focus on organizing a Google Analytics account from the point of initial setup.
Google Analytics Basics
Each Google account (ie, your email address) that uses Google Analytics is organized into a hierarchy of accounts, properties, and views. Within Google Analytics, each Google account can have:
up to 100 Accounts
up to 50 Properties per Account; a Property is typically a single website
up to 25 Views per Property; a View is the starting place for reporting
That means a single Google account can manage the traffic data for up to 5000 websites – a big limit for a free service.
Account
The use of the term Account in Google Analytics can be confusing, because an Account exists within a single Google account. Sometimes, the entire Google Analytics setup is described as an "account" even though that "account" can contain up to 100 Accounts. When we use the term Account, we're referring to this group of up to 100 items that exists inside an overall Google Analytics "account."
Google Analytics Account settings control data sharing and user management. For small organizations, a single Account is sufficient because these settings tend to be consistent across an organization, and Google Analytics allows user management to be refined at the Property and View levels. But as we'll demonstrate in an example, if your organization has multiple websites managed by different people, using multiple Accounts might be a better approach even for a small organization.
Property
Each Property is configured with its own Tracking ID, industry category, and advanced advertising features such as making use of demographic and interest reports.
View
When a Property is added to an Account, Google Analytics automatically creates the initial default View of All Web Site Data. This initial View is unfiltered, so it includes just what it says – all of the visitor data for the Property. Views store information from the creation date of the View going forward. If you delete a View, the data from that View are gone. Views are best used to present a filtered subset of the data in All Web Site Data. Therefore, we recommend that you leave this initial View unmodified and never delete it and add additional Views with appropriate filters as needed.
A custom segment is another way to filter data, but unlike a View, the filtering provided by a custom segment applies to the time period of the report, even the period before you first created the segment. For example, on July 1st, you can create and apply a filter in a segment using the All Web Site Data View, and the segment filter applies to the entire time period of the report, even periods before July 1st if they're included on the report. In contrast, if you apply the same filter to a View on July 1st, the filter only takes effect when you save it and doesn't apply to periods before July 1st if you include that data on a report.
Organizing Google Analytics – An Example
Let's say your organization has 15 websites spread equally across 3 divisions: Small, Medium, and Big. Since you only have 15 websites or Properties, you can put all 15 websites in a single Account. This is a straightforward, uncomplicated approach, especially if the group of users accessing analytics data is roughly the same for all 15 sites.
However, you may prefer to put each division into its own Account (remember, all still within a single Google account), especially if user permissions vary between divisions. User permissions flow down from the Account to the group of Properties under it, so it is easier to manage user permissions in 3 Accounts compared to 15 Properties.
You may be thinking ahead and wondering if using the slightly more complicated structure of using 3 Accounts allows you to roll up reports for each division. No, if you're on the free version of Google Analytics, it doesn't. For roll up reporting across multiple properties, users of the free version of Google Analytics have to turn to tools built around spreadsheets, such as the Google Sheets Add-on for Google Analytics.
Outside of supporting more websites in a single Google Analytics installation, simplifying user management is the biggest reason to use multiple Accounts.
Our Steps for Setting Up a New Site In Google Analytics
Now that we've covered the basics of the Google Analytics hierarchy, here's our checklist for setting up a new site in Google Analytics:
Add a new Property for each web site
Obtain and install the Tracking ID for each Property on each web site
Leave the All Web Site Data View unmodified and never delete it
Create 1 new View with a name of Real Visitors
Create 1 new View with a name of Real Visitors Enhanced
The first 3 steps in our checklist are straightforward, so let's focus on creating 2 Views. Remember, since Views capture data from their initial creation onward, it's important to complete this step just after the Property is added and the Tracking ID is installed.
The initial View of All Web Site Data is just what its name implies – all traffic data with no filtering. This View can contain visit information from bots as well as spammers and other bad actors. If you rely solely on the All Web Site Data View, you can have an inflated sense of your traffic or understated metrics for how your real visitors behave. After all, if you're selling something on your website, bots and bad actors are never going to make a purchase. If they're included in the denominator of the fraction you use to measure success, you'll under-report how well you're doing. You want to track purchases against a measure of real visitors that excludes bots and bad actors.
That's the problem our 2 Views are designed to help solve.
Our first new View, simply Real Visitors, includes checking Google's Bot Filtering, plus setting the country and timezone, and configuring site search settings by turning the option on and specifying the default WordPress query parameter.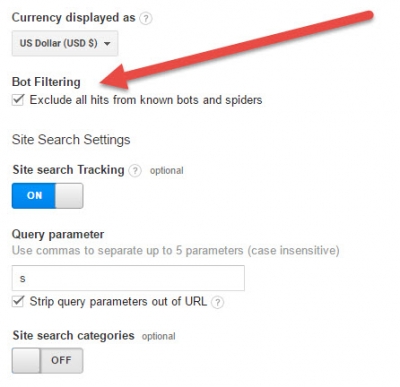 Our second new View, Real Visitors Enhanced, incorporates all of the settings from the Real Visitors View but extends it by adding custom filters to include site-specific hostnames and exclude sources based on our current recommendation for removing spam from Google Analytics.
Our recommendation for removing spam from Google Analytics is based on adding a custom segment, and that remains our preferred approach because segments apply retroactively, where Views only apply going forward. However, some analytics plugins support display of data from a View in the WordPress dashboard. For example, Google Analytics by Yoast supports display of a View (but not a segment) in the WordPress dashboard. We've yet to see a good solution for showing data from a custom segment inside WordPress.
Easy access inside the WordPress dashboard is the big reason to have a View that more closely matches real visitor traffic, even if it can get stale from time to time if the filters are not updated. After all, if you need a more accurate report, just apply a custom segment in Google Analytics directly. Data presented inside WordPress is typically limited and only there for convenience.

Unfortunately, custom segments can contain more characters than the regular expressions used in a View filter, which are limited to 255 characters. As a result, the lengthy expression from our recommendation needs to be broken into 3 filters, and if we add more spammers to the list, we may need to create more filters.
Wrap Up
Accurate traffic data is vital to running a website. If you organize your Google Analytics and keep your View and segment filters updated to remove bad actors, you'll get analytics essentials in your WordPress dashboard and richer reporting tools inside Google Analytics itself.