If you're a Google Analytics user and haven't already done so, you'll need to complete the Universal Analytics upgrade for each of your websites. If you're using the Google Analytics by Yoast plugin on a WordPress site, it's an easy process, and in this article we'll tell you how to do it.
Transition From Classic To Universal Analytics
In October 2012, Google announced Universal Analytics, its "re-imagining Google Analytics to support the versatile usage patterns of today's users".
As this time, most sites using Google Analytics do so with Google's classic analytics. But that is changing because Google is doing away with classic analytics. Classic analytics uses ga.js as its tracking script. Universal Analytics replaces that with analytics.js and offers a range of benefits, from tracking the same visitor across multiple devices with a User ID to more configuration options (one of which we covered in our article covering on page SEO) to custom dimensions and custom metrics. Both classic and Universal Analytics are free for sites with under 10 million hits per month.
Classic Analytics Is Going Away, So You Have To Upgrade
In this article, we're not going to justify the upgrade effort by exploring the advantages of Universal Analytics compared to its predecessor. Instead, this upgrade is driven by necessity. Classic analytics is going away. That means it's not a matter of if – but when – you upgrade to Universal Analytics. Fortunately, Google makes it very easy to upgrade.
Universal Analytics will replace classic analytics in 4 phases:
All properties can upgrade to Universal Analytics
Auto-transfer process (where applicable) begins
Universal Analytics exits beta testing
Universal Analytics is the operating standard for Google Analytics
With the April 2014 announcement that Universal Analytics is out of beta, we're now in Phase 3. As of phase 3, new properties must use Universal Analytics, and existing properties should begin the transition process. By phase 4, all properties will use Universal Analytics, classic analytics scripts will be deprecated, and data collected from deprecated scripts will be processed for at least 2 years.
Your WordPress Plugin Must Support Universal Analytics
For many WordPress sites, the issue of when to upgrade to Universal Analytics was a little more complicated. While its possible to add the analytics.js script directly to a site, a lot of sites use an analytics plugin to add the script to take advantage of additional plugin features. One of the most popular plugins for adding Google Analytics tracking to a WordPress-powered site is Google Analytics by Yoast.
Until very recently, Google Analytics by Yoast didn't support Universal Analytics in its public release. (Support was available in pre-release, development versions for some time.) With the release of version 5.0, Yoast's plugin now supports Universal Analytics.
How To Switch To Universal Analytics Using Yoast's Plugin
As a "how to" article on the process of switching to Universal Analytics, this would be very brief, because Google and Yoast have done nearly all of the work for you. There are many articles, including Yoast's own article on switching to Universal Analytics, that have out-of-date information and might lead you to think there are more steps to the upgrade process.
As the transition to Universal Analytics has unfolded, Google simplified the upgrade process, and some sources haven't been updated to reflect the changes. In earlier phases, you were required to transfer a property from classic to Universal Analytics, and that took a few extra mouse clicks and some time, but transfer has now been automated. The current process includes just a few steps and can be completed in a matter of minutes:
Verify that your property has been automatically transferred
Enable Universal Analytics in the Google Analytics by Yoast plugin
After a short period of time (more than 1 hour), confirm that Google Analytics is still receiving data
Step 1 – Verify That Your Property Has Been Automatically Transferred
For most properties, the transfer process has taken place automatically behind the scenes. Thank you, Google. Upgrading to Universal Analytics now involves updating the script you load on your site, and Yoast's plugin has automated that switch to changing a few checkboxes. Until you dismiss it, you'll see this notice in your Google Analytics dashboard:

To verify that Google has automatically transferred your property, click on Admin. Next, click on .js Tracking Info->Tracking Code in the Property column (the middle of the 3 columns in the Admin). Tracking codes apply to a property (such as a single website), so you'll have to complete this step for each property, or website, that you track with Google Analytics. You should see information similar to: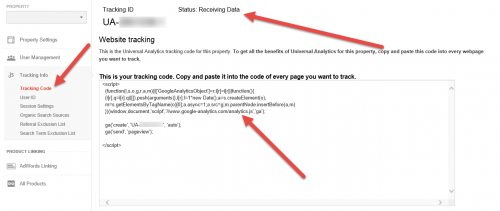 For this property, Google has supplied the tracking script using the analytics.js of Universal Analytics, so it has already been automatically transferred. Confirming that was pretty easy.
On that same screen shot, make note of the fact that Google Analytics is receiving data. In the final step, you'll want to re-check that Google Analytics is still capturing data.
Step 2 – Enable Universal Analytics In Yoast's Plugin
With version 5 or later of Yoast's plugin activated, you'll see an Analytics menu choice added to your WordPress dashboard. It's near the top, whereas the menu for his WordPress SEO plugin is near the bottom, below Settings. The location has drawn some criticism, so it might change over time. Wherever you find it, click Analytics->Settings.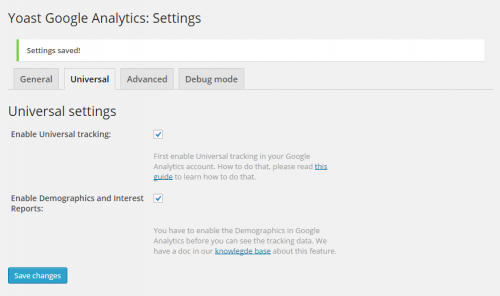 From the Analytics->Settings menu, click the Universal tab. At a minimum, check the Enable Universal tracking. If you'd like to enable demographic and interest reports, you can click that checkbox as well. We covered some of the notification requirements if you want to capture this data in our article on Google Analytics demographic and interest reports. Once you've enabled the appropriate features, save your changes. On the plugin side, the change was very easy. Thanks, Yoast.
Step 3 – Confirm That Google Analytics Is Still Receiving Data
The change you made in Yoast's plugin changes the script that is loaded to capture analytics data. Therefore, you'll want to make sure that Google Analytics is still receiving data after the change is made.
We recommend that you wait at least an hour before performing this check. A second check on the day after you make the change is also a good idea. The Real Time->Overview data in Google Analytics can be a great early warning sign of problems and provide some immediate confirmation that everything works as expected if your site gets steady traffic. If Google Analytics shows real time visitors after you've made the change, that's a good sign. If it shows no traffic and you're sure that's wrong, it's possible that something got off track. If your site is hosted with wpPERFORM, just open a support ticket, and we'll help you sort it out.
Upgrading To Universal Analytics Is Really Easy – Don't Delay
If you want to continue tracking visitors with Google Analytics, you can't put off upgrading to Universal Analytics forever.
To date, the benefits of Universal Analytics have only been accessible to heavy Google Analytics users. For example, tracking User ID sessions is a big feature of Universal Analytics, but it's not something that's possible using Google Analytics by Yoast by itself. It would take customization to generate a secure, anonymous tracking ID consistent with Google's User ID policy.
Hopefully, as more sites complete the upgrade process, developers like Yoast will incorporate richer Universal Analytics features into their plugins.